Welcome to the Business Department!

Business, Marketing, and Information Technology is a course of study to prepare students for learning and working in a global society by providing instruction in business experiences, education, and training. These experiences should incorporate a variety of instructional strategies such as the use of technology and practices that reflect current business procedures.

Business, Marketing and Information Technology courses cover a wide range of areas that are organized into a career pathway. It is the purpose of this course of study to provide:

Education for and about business, marketing, entrepreneurship and information technology.
Opportunities for students to learn business skills, knowledge and attitudes needed to pursue a career in business.
Students the opportunities to utilize emerging technologies.
Programs that will enhance a students':
Intelligent socioeconomic decisions
Ability to produce and distribute goods and services
Career information with a goal of assisting students to relate their interests, needs and abilities with opportunities in the business, marketing, and informational technology areas.

---
Business Department Staff:
Powered by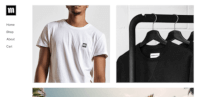 Create your own unique website with customizable templates.